My images are available to purchase as fine art Limited Edition Prints in a range of sizes up to 90 inches. They are available in two different mediums: as a ChromaLuxe metal print or a metallic paper print facemounted to acrylic. Both finishes are gallery quality that showcase images of exceptional vibrancy and detail, but there are some differences which I'll explain here.

Currently the more popular option, and the more affordable, is the ChromaLuxe metal print. This type of print provides outstanding image clarity and vibrancy with exceptional detail and resolution. Metal photo prints are durable, lightweight, scratch resistant and will not fade or change in colour for generations to come. The image is infused onto a specially treated aluminum panel with a dye sublimation process and then coated with a high gloss finish. Each metal print is constructed with a ready-to-display recess mount on the back so it can be hung right away, without needing any additional framing.
Back of metal print showing recessed frame
The more luxurious display option is the acrylic facemount. This is a display method whereby a metallic paper print is mounted, face first, to a panel of museum grade acrylic glass using optically clear adhesive, which also provides UV protection and archival longevity to the print. The print is directly adhered to the back of the acrylic, with no space between. This cuts down on some of the reflection that can be caused by using conventional mats and glass. It also gives the image a highly saturated, vibrant look. Blacks are darker, whites are brighter and the whole image just shines. When printed on metallic photographic paper and properly lit, the acrylic mount leads many people to mistakenly believe that the piece is lit from behind, as it appears to radiate from within. Slowly dimming the lights makes it look like the sun is setting within the image. It is a display method that more and more people are now choosing for fine art landscape photography as it leads to a truly stunning look. All of my acrylic facemounts include a rigid Dibond aluminum backing and a recessed frame so they're ready to hang straight away. With the recessed backing frame the print appears as though it floats an inch or two off the wall.
Acrylic facemount showing acrylic glass, metallic paper print, and rigid backing
Whichever print option you choose you can rest assured that you will be receiving an archival, gallery quality artwork that will truly light up your home.
If you prefer a more traditionally framed look then you can bring your ChromaLuxe metal print or acrylic facemount to a local framer in your area for finishing. My preferred framing choice is to use a linen liner and wooden frame as can be seen in the examples below. No glass will be necessary.
Do you want to order just a loose, unframed metallic paper print? You'll need to take this to a local framer for finishing. Please contact me directly with your size request and I'll give you a quote.
Each image is signed and numbered and is released in a limited edition series of 100 prints only. A signed and embossed certificate of authenticity is included.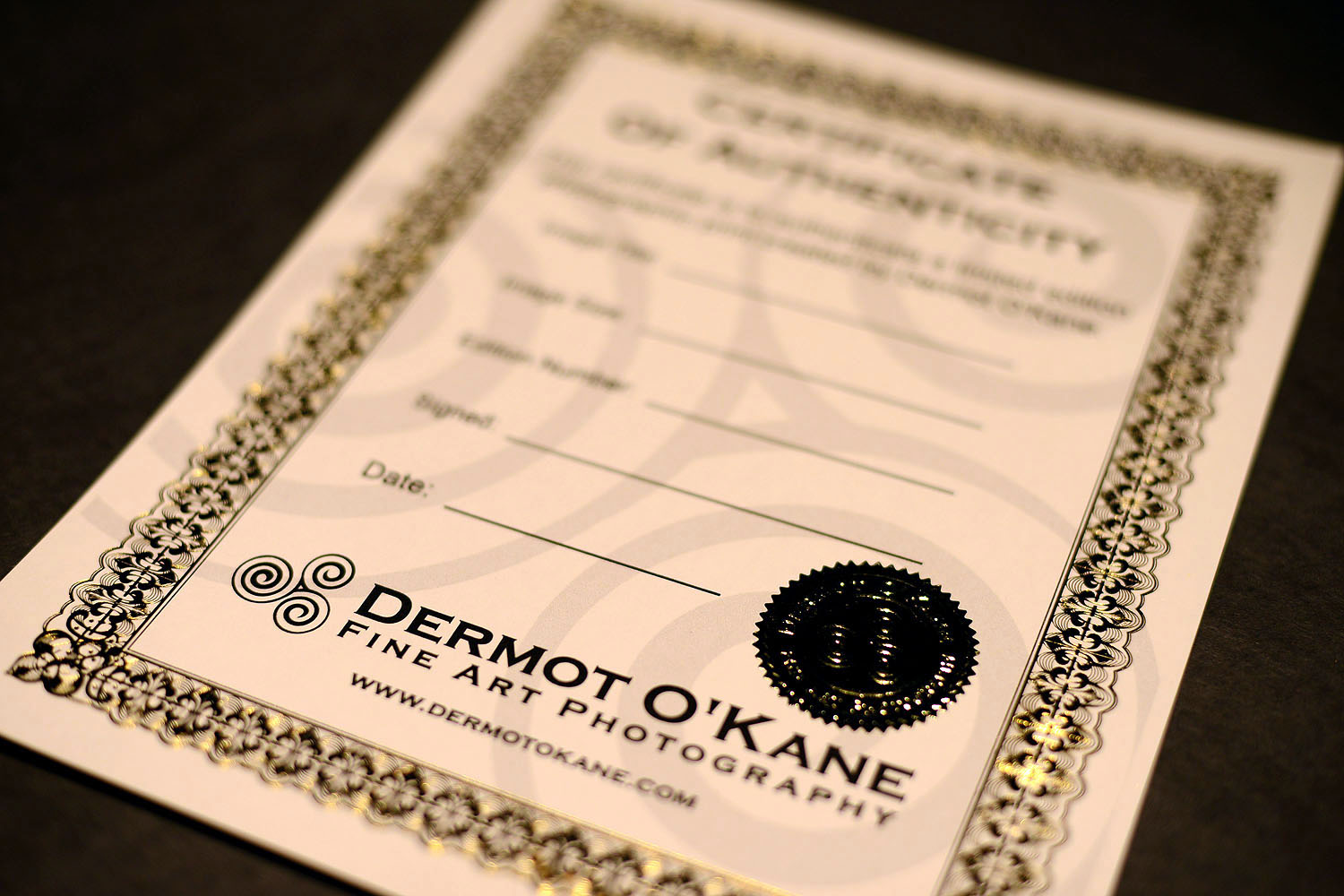 Wondering how a print might look in your home or office but not sure what size would be best? I can do a digital mock-up for you, free of charge with no commitment to purchase. Please send me a picture of your room and include a measurement for reference, i.e. the length of a sofa or mantelpiece or some other piece of furniture. I will digitally install the image on your wall in various sizes so you can see what works best. Your picture doesn't need to be straight-on or high quality. Cell phone snaps work just fine. Please email images to contact@dermotokane.com

To purchase a print please select your desired image from the Gallery and then tap or click on the "Buy Print" button to view size and finish options. Payments are made safely and securely through PayPal. You don't need to have a PayPal account for this - you can use your credit card. Client satisfaction is of the utmost importance to me so I offer a one month, 100% money back guarantee. If you're not satisfied with your purchase you have one month from your date of receipt to return it for a full refund. (Return shipping not included.)

I am currently offering free shipping on all orders within North America, excluding addresses located in Hawaii, Alaska, Yukon, NWT, and Nunavut.  If you live in any of those excluded areas or outside of North America please contact me before ordering for an accurate shipping quote.

Your artwork is packed safely in a box for shipping. It is fully insured. In the unlikely event of damage occurring in transit it will be replaced at no charge. Every order is custom-made. Please allow up to 4 weeks for delivery.